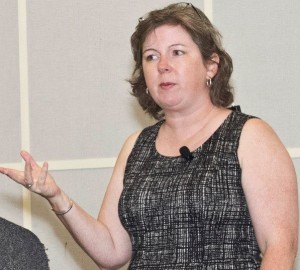 Photo: Content Marketing Institute
Speaking is an important part of my work. Teaching about content strategy and information architecture are important to me for two reasons:
I like to share the love — The love for great content that's a beauty in itself, but more importantly, for great content that helps your customers. Because helping your customers helps you.
More importantly, I want to give you to tools to understand and evangelize for content strategy within your own organization.
Formats and Venues
I've spoken to tiny groups and huge auditoriums, at private meetings and at industry-wide public conferences. Here are my three favorite ways to speak or participate in your event:
Teaching Workshop
This is my favorite kind of speaking. True learning happens when each member of the audience is also a hands-on participant. My workshops mix short lecture-style teaching with longer segments for the participants to test ideas, ask questions, and work in groups to tackle the concepts we discuss.
Traditional Presentation
I can speak on many topics related to content strategy and information architecture, and I have a great sense of persuasion. I tailor each presentation to the audience. Regardless of the topic, I find that 30-45 min works well for this kind of presentation — less time and we can't dig very deep, but if time allotted is longer than 45 minutes, we need to consider a workshop format both to maintain the audience interest and to maximize the value from the presentation.
Panel Moderation
I take panel moderation very seriously. We've all sat through one too many unplanned, haphazard panels. These can turn into the highlight of your event, but much more common is a dull, wasted hour for panelists and your audience. Instead, I work ahead of time with event planners and panelists to lay the groundwork for an informative but entertaining panel. We consider the audience, their current understanding of the material, and the unique contributions of each panelist. During the panel, I work to keep conversation moving, and to prod the panelists to dig into the harder topics that make for a great discussion.
Understanding the Audience
With each speaking engagement, I work with organizers to understand the audience. I'm equally comfortable speaking to other experts or to novices in my field, but I want to tailor my message to meet the needs of the audience in either case. Expect a lot of questions from me about the background of your audience, and what they hope to gain from a talk or workshop.
Potential Topics
Several of these topics are appropriate for different formats. If you're interested in another topic, please ask!
Content Strategy 101
Creating Categories and Labels Your Customers Will Understand
Planning and Organizing Your Content Work
Creating an Approval Process That Doesn't Strangle You
Building Distributed Teams That Write With One Voice
Finding Your Voice
Content Licensing vs. Custom Content
Using Content Strategy to Make Your Marketing Effective
Social Media for Parents
Social Media for Teens
Past Speaking Engagements
I am comfortable in front of groups of all sizes. Here are a variety of the places I've spoken, taught, or facilitated.
American Marketing Association – Birmingham Chapter
American Marketing Association – Nashville Chapter
Barcamp Nashville
Content Marketing World
HealthStream Customer Summit
Indie Conf
Intelligent Content Conference
Nashville Business Journal Crash Course on Social Media
Junior League of Nashville
Penn State Web Conference
Podcamp Nashville
Midwest UX
Nashville Chamber of Commerce
SXSW
Interested? Let's Talk!
If you'd like to learn more or check my availability, please contact me.