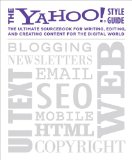 The Yahoo! Style Guide [print version, also available as the online Yahoo! Style Guide here] arrived at my house while we were on a 7-state Western odyssey last week. So I have just begun to dive into this new entry into the "how to write" contest, but I had to pause here to say I'm already on their side.
Chapter 1, Ideas in Practice on p. 14-15. The Yahoo editors strip out a frighteningly prototypical section of "web" copy and rewrite it the right way. They slash away adjectives, dubious claims and the flotsam that ruins most web writing. The overfluff that people add because they can.
They add bullet points, bold copy and links.
The end result is remarkably shorter than the starting point, and it's useful, easy to comprehend and directive.
That's honestly as far as I've gotten, but good heavens. If all you read is chapter 1, you're well on your way to better writing.